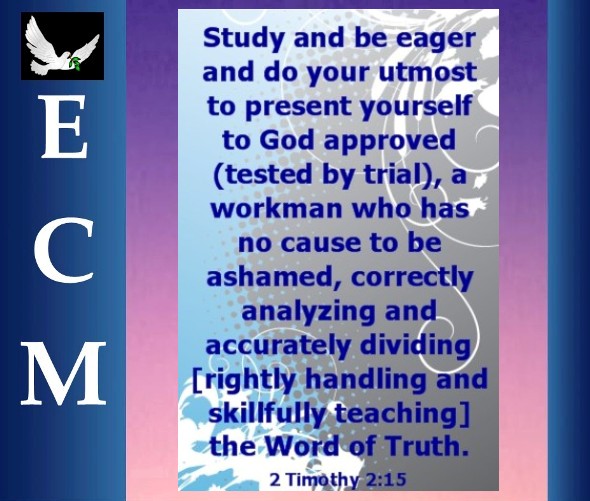 Dependency and Trust in God
The name Jehovah-Jireh, meaning God our Provider was a major spiritual stumbling block for me for many years. Let me explain this further and relate this thought with more understanding. As a legalist the idea of God totally providing for me was alien to me physically, but spiritually I accepted this statement with no knowledge or understanding of what God meant by being my Jireh or my provider even in the flesh and not just for spiritual reasons. Like everyone else in today's world, as a man I was brought up to be the provider, and not to be provided for and this in the physical sense. Even though I thought I was dependent on God for everything the truth was, I was relying on my own strength and abilities and God was simply the entity that I would call upon for certain things in life spiritually, but not for everything in my life representing both physical and spiritual needs. It is impossible for the legalistic attitude to be totally dependent on God and on His word in its fullest measure. Regardless of what the legalistic mind thinks or deludes him or herself with, the truth is, just like the Pharisee's they are dependant on their own righteousness and personal understanding of Godly things. Even though the legalistic individual does all their personal beliefs and actions in ignorance they claim their actions and beliefs to be godliness just like the Pharisee's did, but fail to see the consequences of what it is they are really doing.
Anxiety is one of the closest and most intimate friends of the legalist. Anxiety is caused simply because of a lack of Trust in God. Whoa what a statement. This should and most likely will cause an emotional reaction among legalists. Peace is far from the legalist even though the legalist will not openly admit this truth, but it is true and they know it! Pride and personal arrogance are present with anxiety and self-sufficiency. Pride and arrogance is a major enemy toward man and especially the Christian, yet man is quick to take hold of both these entities along with a self-righteous attitude that dictates pride and arrogance to an individual in Christ and hides behind a mask called godliness.
What a spiritual delusion those frames of thinking are and proves to be in the lives of individual people. Without a righteous and holy trust brought on by faith in God by the Holy Spirit there is turmoil, unending sorrow and grief. Peace and rest is far from the hearts and minds of these self-sufficient individuals who continually allow them selves to be lied to on a regular basis by their own meagre understanding and worldly self-imposed wisdom that is no wisdom at all. As the scripture has said, "There is no rest for the wicked." Isaiah 58:20-21. This does not mean that the Christian is wicked; it means that the flesh of the Christian is wicked and always will be. And if the Christian chooses to live by their flesh then peace and rest will not be found, and this meaning the peace and rest founded in Christ Jesus as LORD. It is for this reason we are called to walk and to live by faith. The flesh and its desires naturally rebel against God and do not want to honor the will of God. It was for this reason that Moses had to stay with the rebellious people whom God had brought out of Egypt for 40 years, because God said, "You will not enter my rest, you will not enter into the land promised to you filled with Milk and Honey, and this because of their open rebellion." May the God of glory be forever praised and glorified. But because the people did nothing but whine and complain, live in doubt and would not fully Trust and Believe their God of great power; Who had parted the Red Sea and had delivered them from the hand of Pharaoh, and showed them miracle after miracle they still resisted their heavenly Father. NO, this was not enough, and in their fleshly world how could God possibly deliver them and how could God do anything good for them, even after God had done what He did, right in front of their very eyes their doubt and rebellion still remained. It was the next generation God had called forth, a remnant of people God had chosen whom would enter the land and take what was promised, thus entering into the Peace and Rest of the Lord.
Even as a legalist myself when the reality of the scripture that says, "And among those nations you shall find no rest, nor shall the sole of your foot have a resting place; but there the Lord will give you a trembling heart, failing eyes, and anguish of soul. Your life shall hang in doubt before you; you shall fear day and night, and have no assurance of life" - Deuteronomy 28:65-66 – allowed me the opportunity to internally search out what it was I truly believed and who it was that I was trusting in. I had to seriously ask myself was I trusting in God, faith and the promises of God or was I trusting in my own abilities in Gods name by my own understanding, abilities and strength? The answer in truth was the latter, and not the former and this to my own disgrace and loss.
But by the grace God has granted me, my eyes are now opened and thanks be to God for what He has done. This statement made in Deuteronomy by our Lord and God clarifies the very heart of the legalist. These people are in constant torment and in anguish of spirit because they believe their salvation is not complete and can be lost at any point and at any given time that they might fall short of the perfection founded in Christ. And these particular people are in continuous fear of losing the gift of life freely given by our Lord Jesus Christ by faith. And why is that? Is it not because they are trusting in themselves and their own abilities instead of in the promises of God and taken by faith? Of course it is. The thinking of the legalist is parallel with cultic practices that offer no assurance of salvation, and in reality they are in rebellion against God and against the Rest and Peace of God that He has promised each one of us who calls upon His name.
Their salvation must be attained and worked for 24/7 and the grace of Christ is of no value to them that believe this way of life and living supposedly found in God, even though the legalist knows these scriptures regarding faith and grace, it is fear causing doubt based on a lack of knowledge and understanding of what it is that Christ has really done for all men, and this lack of knowledge is caused because of not trusting or believing God and His word given by Holy Spirit. In other words, the truth of God's word doesn't make sense to their carnal mind, so they accept what does make sense, when all in all, God is not carnal, but Spirit.
It is only Holy Spirit who teaches men all things pertaining to spiritual truths about God, and it is this lack of trust and belief that holds the legalist to his or her own lawful understanding of Godly things and this to the legalists own downfall. What needs to be addressed and understood is, what does the world, the flesh, and the carnal mind of man know about God and of the things of God?
I tell you the truth, learning total dependency on God has been one of the greatest barriers I have ever had to cross and literally endure. This is a lesson that has not been easy, but has been absolutely necessary and spiritually fulfilling. Learning to lean on the Master of Creation you would think would be incredibly easy, but this command of Christ has been an incredibly hard trial for me. But as the Lord works His wonders in me day upon day it is the Lord who keeps placing me in situations in life where I have no choice but to be dependant on Him or else it would prove to be quite detrimental to my physical being.
It would appear that I have been placed in situations that are far beyond my control or above my own abilities, so that I could be dependant on God and allow my Father in Heaven to prove His own faithfulness to me in complete sincerity. As I am being stripped of myself and of my own strengths and understandings, I realize more and more what it means to die to oneself and how one cannot truly live until they die. My Father in Heaven has proven true to His word without fail in my life. What is impossible for me is possible with God and I know that this is true. God has allowed many of these trials and tribulations in my life for that exact reason. God placed me right where He wanted me in life and in the physical war zone, so that I would do nothing more than trust and believe God with faith in His word, and with His great and most awesome abilities found within the working power of Holy Spirit who knows exactly what I need and fills that need each and every time.
"My grace is sufficient for you," says the Lord. Even though I spend time in prayer and in supplication to God, He has been faithful to me because that is what God requires of both you and I, and that is dependency on Him. The situations I am placed in only means God has me right where He wants me so that I can learn to depend on God for everything I need in this world. God desires to be my Jireh (provider) just like He desires to be your Jireh, but as long as you continue to provide for yourself, by your own means, strength, understanding and abilities you have not allowed God to be God in your life.
As the scripture says, "Your will be done in my life Lord," does not mean my will be done in Gods name. Ask yourself whose will it is you are doing? Are you doing Gods will or are you doing your own will, by your own understanding and by your own strength? I am confident the truth of this reality will be brought to light in its own time, and as God is willing to reveal to each one who should ask Him, than God will surely do it. The answer to this question is found within the confinements of Gods Holy Spirit representing peace and rest, filled with tranquility. Are you at peace, rest and tranquil with your God? If not, then stop lying to yourself and face reality people, after all you are worth it.
This is the time to now make the same decision I had to… "Be True To Me, after all I am worth it." Be open and teachable before the Lord and He will lead and guide you in ways you thought not possible. Our God is amazing and is more than capable to meet any need by anyone, anywhere. All they have to do is have faith and believe. Stop trying to live up to what is not possible to live up to. We are changed from glory to glory, from moment to moment, and from day to day. Nothing worthwhile is built in a day.
One of the greatest scriptures that really woke me up in regards to this whole issue is found in Philippians 1:6. Now to understand scripture we first must come to the understanding that the bible is a love letter written by God to man. And every word written represents life in Christ, for the scriptures, and that's all the scriptures point to Christ. Understanding also, that every word written is a promise given to the Child of the King, namely a child who has accepted Jesus the Christ. Now if every word written is a promise of God and God Who will not and does not break promises says: "Being confident of this very thing, that He who has begun a good work in you will complete it until the day of Jesus Christ." Now if this is a promise this tells me automatically, God will complete the work He first started in me and will bring it to completion. With this thought in mind, how could I lose my salvation when God promised to bring my salvation to completion? This is when true soul searching within me began. And the truth of the book of Romans began to come to life. And a whole new understanding of scripture started to enlighten me, and the freedom that Christ promised was brought to life in my own world.
I can remember for years going before the LORD and saying to Him, I don't understand what you mean, the truth will set you free. To me these words were so alien and did not have actual meaning to me. I was stressed out half the time, filled with worry and anxiety, constantly focused on my sin in order not to do it, and time and time again I would fail and fall, and shame and disgrace would fill me and my soul would hurt and pain in agony because I figured God was angry at me because I couldn't maintain righteousness on my own. I used to look at so many other individuals who seemed to live such holy and righteous lives that I was filled with envy toward them. I wanted to know their secret but wouldn't ask because I did not want to appear less or worse then they were.
Inwardly I was a spiritual mess, and with such spirits as confusion, disgrace, shame, sorrow, anxiety, grief, anger, and resentment, I could not hear Jesus clearly, I was literally a walking fool and a mixed up mess. Even though I had Holy Spirit in me, because no matter who you are you can automatically sense Holy Spirit in your life. I did not have the freedom Christ promised me. I always stood in fear of losing my salvation and would try harder, work harder, study more, pray more, preach more, teach more, and burden many people with the same spirit of religiosity I myself was tormented with and thought that I was doing everyone, including God the Father a favour. I was so blind and so lost, but I was still saved, and that is fact. Holy Spirit is the seal to the New Covenant agreement. But just because I was saved did not mean that I was living, preaching or teaching correctly, because I wasn't. I stood in err of the peace and rest of God that I did not have. I did not have the freedom promised to me, because I was caught up in the spirit of legalism, which was a major hindrance to me.
It wasn't' until years later that the truth finally did set me free and that wasn't until a man took the time, by the leading of Holy Spirit to confront me with the truth and to present it to me in his own bold way. I have a very strong personality about me, granted by God. I was an individual who was full of dogmatic views and interests imparted to me from several Christians and pastors in my life who were family members. So I did come by this honestly. I love Jesus and always have. And I truly want to be the best that I can be in Him. But I am a sinner before man and before God. That is reality! And until I had come into the actual knowledge of God's saving grace did I come to know the truth of God's peace and rest. It was not long after that encounter with a grace filled pastor who confronted me and shared with me, by the power of Holy Spirit about him, which opened my eyes and I began to see the truth, and that truth did set me free. The spirit of anxiety and stress, bitterness, anger, resentment and on and on and on, all left and had no rights on me, because God gave the wisdom to know and to understand that I am saved not by what I do or ever could do, but by God's forever enduring mercy and by His blood sacrifice. I was shown that I am perfectly and wonderfully made and acceptable to God the Father by that precious blood and by the saving grace of Jesus the Christ.
Today I am a major adversary against the teaching of legalism. I really am. I know the burden it carries, and I want all people to come to know as I know and to find what I have found in Christ Jesus, and to let the Spirit of the Living God reside in fullness in each and everyone of you. There is such great wealth to be found in God's truth, but there is nothing but burden after burden to be found in the teachings of men. Rule upon rule, precept upon precept, for what sounds good and holy doesn't always mean it is. The Today is your Day Ministries was started approximately 8 or 9 years ago now, and it was Christ who has led and inspired me to this point. Many people have come and gone in regards to this ministry but that's all because of growth and spirituality and the reckoning of Holy Spirit and His guidance to this ministry. Now I head up a New Ministry and have for the past two and a half years, called Elijah's Call Ministry (ECM) and God has greatly blessed that ministry which I am well pleased with. As head pastor over this ministry it is by the grace and love of God that I oversee all that pertains to this ministry because I am responsible for it. And I will do my very best to honor Jesus the Christ to the letter and by His direction in all aspects of this ministry. Because this ministry is all about Jesus and His saving grace, to His glory and for our benefits and that the truth of Love, Grace and Mercy are presented in fullness and with boldness to a lost and dying world so that they may come to know and understand the true freedom we have in and under Christ.
I will by the grace and mercy of God do my very best to teach and to preach the Living God in all truth and in all righteousness, even if it means to come against certain acts of failure on my part found in my flesh. Because we have all sinned and have all fallen short of the glory of God the Father, it is by the love, mercy and grace of our God who sustains and who upholds us, even in our weaknesses and transgressions. And for the man who thinks he is without sin and is a righteousness unto himself, I tell you he is greatly deceived and knows not what he is doing. But know this, God loves you and will always love you, even when you are not right in God, or teaching out of your carnal understanding, Gods love does not stop toward you. His grace is sufficient, so whether you know or understand grace in its fullness or not, the love of God does not cease toward you in your life. But I am confident, just like it was for me, it will be for you. God will send someone into your world and into your life and by the Spirit of Grace about him, will teach you the truth in regards to the grace that saves all men, and that grace is not found in the heart of man, but in the heart and blood of Jesus the Christ and freely given to all men who would call upon Him and Trust and Believe the God in which they say they serve.
So now I don't have to concentrate on the sin of my flesh. I can freely enter into the heavenly place where my Father can be found at any time, any day, and anywhere, no matter what I have done. I am not saying I have a free ticket to sin and to do unrighteousness, be it far from me. But what I am saying is, sometimes, even I fall and falter, just like all of you do. But I don't beat myself up anymore, I don't get harsh or cruel on myself, or stop loving myself, or allow my self esteem to be affected to the point where I am rendered useless and ineffective. I don't allow the spirit of anxiety to attack me and for the accusations of Satan the accuser to hold me down or to prevent me from entering into my Fathers pavilion in order to repent of what I have done against Him. But freely come, and say to my Father, my Lord and my God, I have sinned and have fallen short, again! Please forgive me, and give me strength in this area of my life. For this problem is bigger than I am, and I need your help to conquer this in my life. He is so faithful and so full of love and mercy that He meets my need each and every time. And with this in mind, I do not allow the devil a foothold, which means, the Spirit of love and grace does not ever leave me, or do I leave Him because of guilt and shame. I have the freedom to say to Satan each time he accuses me of sin, to say thanks Satan for reminding me of that sin, now I can go before my Father in heaven and be forgiven even of that! I can laugh in the face of Satan now, and know that he is defeated in my life, and all this because I have the freedom of the knowledge of Grace, God's grace and love in my life. This is the freedom Jesus was referring to when He said, "The truth will set you free." And indeed people I am free. I now have the wisdom and knowledge filled with spiritual strength not to accept or believe false testimonies regarding myself and the ministry in which has been granted me. I have the knowledge and wisdom, filled with spiritual freedom to know that I am a child of Christ fully saved and fully accepted by the ONE who counts most, and that is Jesus the Christ. I have the knowledge and wisdom to know I don't have to please people all the time to be a successful pastor. This entire ministry is not about pleasing people, but it's about pleasing God and doing His will.
Oh precious, precious people, if only you would come to know and to understand that there is no righteousness within us without Christ Jesus filling us and revealing Himself to us. It is by His saving grace that you are made acceptable to God the Father. It is by His precious blood that was spilled for all man kind so that they could freely enter in. Are you not aware? Have you not heard? While we were still sinners, Christ died for us. So what makes your sin so much different now? It was the sin in our lives that prevented us from coming to such a Holy and righteous God. But Christ who is our righteousness has made that very thing possible each and every time we find ourselves caught up in sin. Stop glorifying your sin and glorify God instead and to do this means to freely come before Him a sinner and simply repent. He is faithful even when we are faithless. After all, there is nothing that can separate us from the love of God, absolutely nothing. Once you are saved you are as saved as you will ever be saved, so stop trying to add to that salvation. Its all part of the act called faith. You first come to believe Jesus by faith, you accepted Jesus by faith, now walk and live in faith all the days of your life, and this means to simply trust and believe your God in all that He says pertaining to you in love. For again, the bible is a love letter written by God to His children, so that all may come into the grace of His love and mercy freely given to all who would accept Him in His fullness. His grace and His mercy do not cease to exist, because you who are in Christ now find that you are not physically perfect, which in itself is an impossibility.
Over the years, I have encountered so many people who are in the place I used to be. And truly I have a heart of compassion for them. Simply because I fully relate to the misery and torment they constantly live. But where there is legalism, there is also found there the spirit of pride and arrogance, and these two entities our not our friends. For the spirit of arrogance and pride are designed to come against us, fallen man in order not to reveal weakness, or failure, or shortcomings, or say or to think that we might possibly be wrong in one aspect or another. Do you understand what is being said here? The spirit of dogmatism holds us in bondage to pride and arrogance, for no demon works alone. And it is the individual who has placed themselves on some kind of holy platform in order to appear holy but inside they know that they are not. I know I was there and was there for years. But I loved God, I really did. But in all essence and truth, I was hurting God, and was working against God and didn't even know it.
Today I recognize the spirits of dogmatism, legalism, pride and arrogance and recognize them immediately in the lives of men, and this too by the grace and will of Jesus in my life. For everything good comes from the Father, and I have been blessed with many spiritual gifts, and these are gifts that I use regularly and in total and complete trust and dependency on and by the giver of those gifts who is Jesus the Christ. It takes faith to work these gifts and to use them. Simply because I am only a servant to the Living God just like all of you are. But on my own I can do nothing. I must be dependent on Christ for all things, especially when it comes to this ministry and everything and everyone involved. I have been entrusted with it by our Saviour and I will do my very best to be in alignment and under the leadership of Christ Jesus in all aspects of this ministry to His own glory.
God has a plan for every individual on earth and has a plan for the good if only we will come in and under His tutelage. If we come humbly and with contrite heart, knowing we are sinners saved by the grace and blood of Christ Jesus and not by what we ourselves can achieve or do. This world is not about us, but about what Christ has done for all men to deliver us from the hands and works of the evil one. This means we have to take stands at times in righteousness as Holy Spirit leads and directs. This means to speak boldly the word of God in all aspects. For I myself am not ashamed of this gospel or the saving grace that has delivered me, not at all. I will make my stand in honor of Christ, whether you approve or disapprove, but I stand righteous before my God, for it is His approval I am after not yours! I know this by the Spirit that is within me, the Spirit of life and freedom, filled with peace and tranquility and all to His glory and to my own benefit, and believe me, I benefit in so many ways that they are unmentionable. My whole Christian walk is so much better and so much more fulfilling and the relationship I now have with Christ is far beyond words, because I know He loves and accepts me, even in my sin, a sinner, whom God loves and continuously shows His mercy toward without end. A man who has become dependant on the workings and truths founded in Christ, and who simply believes all that God says, whether I understand them all or not, in time I will. I am confident in this, for the fact that God has promised me, "that He would bring to completion the work first started in me." God said it, and I believe it!
May the Peace and Grace of our God and Lord Jesus Christ forever fill your heart and souls touching us with His endless love and grace until we are all called home to glory to be forever with our Father who patiently waits for our arrival. Because it is Jesus and Jesus alone who will bring our salvation to completion, accept or reject this truth, but truth remains truth, and freedom awaits all who will freely enter in. As He has promised so Jesus will do it, so trust and believe Him!
Lord Bless and may you all freely walk in the grace freely given to you.
Shalom!