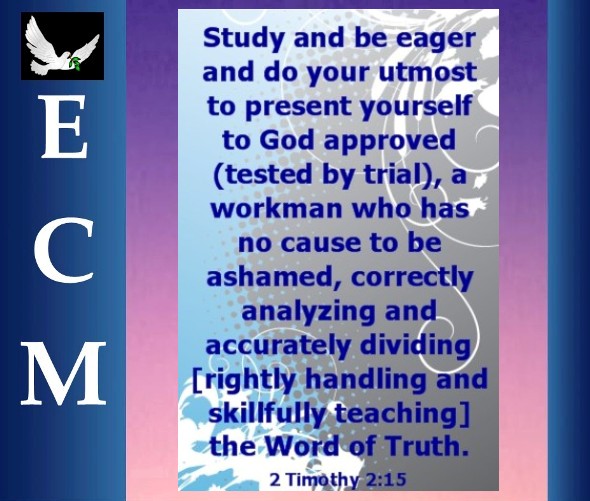 This is why spiritual battle takes place in the life of Kingdom bearers because it's one Kingdom fighting against another kingdom. Thus we have God the Father versus Satan. Let us all face real facts here and that is Satan is not going to just roll over and let us, the representatives of the Kingdom of Love and Life to overthrow him without a battle. Satan is going to do some serious battle with us, and Satan is going to do whatever it takes to maintain the people held in spiritual bondage that these people don't even know nor recognize as bondage, and hold them unto himself with mental battles, sexual lusts and desires, lies and deceit, anger, bitterness, resentment, hatred, anger, jealousies, disputes, alcohol, drugs, physical abuse, murder, and the like, but it is not our battle, but it is King Jesus' battle through and by His Spirit in us that we are strengthened and empowered from on high to do what Jesus requests us to do in His own name and to His own glory, for the lost are also the children of God whom He loves and wants home, thus He states to all people, "Come taste and see that the Lord He is good." Psalm 34:8.
Now people here is an interesting concept you might all be blessed by; if someone comes and slaps you this in itself is called an assault on you. However you as an ambassador of Christ, and if the same event should happen and someone slaps you this is now called an international incident. Meaning the one who has done the assault is now held accountable to the King of that ambassador who has just been assaulted, and it is the King of the represented Kingdom who will respond with an all powerful army to see that justice is done and done in righteousness toward the ambassador who is the representative to the King. It is not for the Ambassador to defend himself or take vengeance, but for the King and for the Kingdom of the represented Kingdom to act on behalf of the ambassador. Do you understand what is being stated here? Again this falls in line where the Lord says, "Vengeance is Mine, and recompense; their foot shall slip in due time. For the day of their calamity is at hand, and the things to come hasten upon them." Deuteronomy 32:35. NKJV.
It is again for this very reason that we should not ever raise our hands or voices against the Lord's anointed. For the Lord's anointed does not represent himself, but represents the Kingdom he stands for. However any ambassador that has powerful officials behind him/her need to take these matters into consideration and whatever the incident may be, and if the incident was done with injustice they will surely be dealt with by that King and His Kingdoms army. That is why the Lord has said again: "Repay no one evil for evil. Have regard for good things in the sight of all men. If it is possible, as much as depends on you, live peaceably with all men. Beloved, do not avenge yourselves, but rather give place to wrath; for it is written, Vengeance is Mine, I will repay, says the Lord." Romans 12:17-19. NKJV.
Since we who are in Christ, and are called the ambassadors of Christ; does it not make sense than that we who represent a land and a Kingdom called of Peace, Love, Mercy and Grace that these things should be well established within us and in honor of our King since this is what this Kingdom represents in full? Again when a word is said or stated which says, "It is written" means that this is the Kings decree, which in essence is His eternal and unchangeable law for the King in which we who are in Christ represent does not change, because He is forever the same. However we who are in that Kingdom need to succumb to that law, ordinance or decree simply because it is the written law, decree or ordinance give by of our King, and we the ambassadors are not to question the ordinance but to uphold it and simply represent it since we now know that the ambassador is a representative of the KING and the KINGDOM.
Again what is written or decreed is not up for debate, nor is it up for any mans approval to be accepted, nor is it up for vote to see if it's acceptable or not, because it is the written word and law of our King who is God. As ambassadors it is up to us to uphold the law, decree, or ordinance given of and by God Who is our king and it is not for us to represent our own law, decree, or ordinances that do not represent the Kingdom in which we are to be representing, for we would than be known as traitors, or guilty of an act of treason. For the law of people from another kingdom that does not represent our land of peace and love stands in conflict with the Kingdom we are to be representing, thus we will find if we do such things that we are no longer in unity with our own King or Kingdom and find that we are going to battle against the very one we were sent to represent in the first place. This is what happened with the Pharisees and Sadducee's who were representing a different kingdom that was not of the Kingdom they considered was being represented but wasn't and found that the King of kings was continuously rebuking them and this to their own shame and downfall.
For anything out side of our native land and kingship is not of any value, nor is it our concern for we are called to be conquerors in this place and not to be conquered. Romans 8:37.
If you all knew the armies of heaven that stand behind you, the truth in knowing what you truly represent is your confidence in this world or granted to you by the Kingdom under God the Father, means you would walk with such power and authority that it is beyond imagination and comprehension in its truest form. This King in whom we serve is most powerful and has such a vast army of spiritual warriors the question that needs to be considered is; what hope is there for opposing forces? Now people take up your cross, which is your ambassadorship and conquer your land in the name of your King and of the Kingdom of righteousness you represent!
Consider what is written in the Living Word of God: "Now the king of Syria was making war against Israel; and he consulted with his servants, saying, My camp will be in such and such a place. And the man of God sent to the king of Israel, saying, beware that you do not pass this place, for the Syrians are coming down there. Then the king of Israel sent someone to the place of which the man of God had told him. Thus he warned him, and he was watchful there, not just once or twice. Therefore the heart of the king of Syria was greatly troubled by this thing; and he called his servants and said to them, will you not show me which of us is for the king of Israel? And one of his servants said, None, my lord, O king; but Elisha, the prophet who is in Israel, tells the king of Israel the words that you speak in your bedroom. So he said, Go and see where he is, that I may send and get him. And it was told him, saying, surely he is in Dothan. Therefore he sent horses and chariots and a great army there, and they came by night and surrounded the city. And when the servant of the man of God arose early and went out, there was an army, surrounding the city with horses and chariots. And his servant said to him, alas, my master! What shall we do? So he answered, Do not fear, for those who are with us are more than those who are with them. And Elisha prayed, and said, LORD, I pray, open his eyes that he may see. Then the LORD opened the eyes of the young man, and he saw. And behold, the mountain was full of horses and chariots of fire all around Elisha. So when the Syrians came down to him, Elisha prayed to the LORD, and said, Strike this people, I pray, with blindness. And He struck them with blindness according to the word of Elisha." 2 Kings 8-18. NKJV. This is in complete agreement with what is written: "You are of God, little children, and have overcome them, because He who is in you is greater than he who is in the world. They are of the world. Therefore they speak as of the world, and the world hears them. We are of God. He who knows God hears us; he who is not of God does not hear us. By this we know the spirit of truth and the spirit of error." 1 John 4:4-6. NKJV.
Since Elisha was an ambassador of God Himself, and it was God who appointed Elisha to be His ambassador; it was not long before Elisha took the God given authority and used it to his own advantage and that to even save a people who wanted to kill him. However Elisha knew the authority that was granted to him and walked by utter faith in regards to that recognition, power and authority. Elisha knew that he was not alone, but had the army of Heaven behind him because Elisha knew he was appointed by God to be His ambassador and spokesman in regards to the Kingdom called Heaven.
That same God and King still reigns today. We too have been called ambassadors to Christ and to do His bidding in all righteousness in honor of our King. I have said this so many times in the past, and yet, I will say it again; it is up to each one of us to take the promises given by God and take those promises by faith and to act on them accordingly. When faith is involved with all that we have come to know and believe in this God given gospel than the rest is up to our Lord, God, and King to do, to act, and to protect us as He promised He would do and be our defender and shield.
Jesus will be our provider and He will be our healer if we allow Him to be because our King is called Jehovah-Jireh and Jehovah-Rophe. He will be our all and all if we allow Him to be, and He will bring to light and to reality every promise spoken into your and my life for God is the keeper of His word and the Lord our God will not ever break a covenant. "A wicked messenger falls into trouble, but a faithful ambassador brings health." Proverbs 13:17. NKJV. Again the Word of God clearly states:
"And take the helmet of salvation, and the sword of the Spirit, which is the word of God; praying always with all prayer and supplication in the Spirit, being watchful to this end with all perseverance and supplication for all the saints – and for me, that utterance maybe given to me, that I may open my mouth boldly to make known the mystery of the gospel, for which I am an ambassador in chains; that in it I may speak boldly, as I ought to speak." Ephesians 6:17-20. NKJV.
Now I am going to mention some very interesting facts concerning language and the act of being an ambassador of Christ. Since we have now discovered our original roots, and our native land, which again is the Kingdom of Heaven we will then discover there are other truths involved within this category of being called an ambassador, king, prince, child, or son of the Living God. However since we have now come to understand that our citizenship is in heaven and not here on earth, but we are only visitors here on earth and we are only here for a very short visit; and some visits will be shorter for some than it will be for others, simply because no one is ever promised tomorrow; means what we now need to establish and come to terms with is what is known as heritage and language in reference to this Spiritual Kingdom in which we were called Ambassadors of and to.
To do this most effectively I'm going to use an analogy I am most confident most will come to understand with clarity. Since I live here in Canada, and we have two official languages in this country or kingdom; one is English and the other is French; and since English is dominant in the Western side of Canada, while French is dominant in the East side of Canada, means we have a language difference or barrier, but still both languages are official in this country. Now if I was to leave the West and move to the province of Quebec, which is in the East, and me not being totally fluent in the French language means that all the people there would be alien to me. Most of their speech would be unfruitful to my mind, but their language is still a reality. Since my native language in the flesh is English, it is the English language that works best for me to be communicated with, so this is the English language that is most commonly used to communicate effectively with me. Are you all with me so far? Lord willing you are, so let's move on.
Now with me being in the East and with people speaking their native language which is French, the communication factor would greatly be affected and would not be as effective in regards to myself because they are speaking a foreign tongue. Thus they would be speaking in tongues in which I cannot fully grasp nor understand in full and again would be unfruitful toward me. Now pay attention here people this is where its get interesting.
Looking at this same language factor but in a spiritual sense; let us consider this: We who are called of and by God and appointed as ambassadors of Christ need to learn to speak our native language founded in heaven to be effective and to be most powerful in order to represent our Heavenly Kingdom. Our heavenly language or spirit language is not that of our physical nature or native tongue. It is called a spiritual tongue or a spiritual language and it is natural within us, as Holy Spirit is the speaker of that tongue through us. So when we pray in tongues as we are commanded to do, we have powerful and effective prayer, because of the communication that is granted by our Spiritual King Who first gave and anointed the language. As we who are called ambassadors of Christ dwell no longer in this world, but are now representatives of the Kingdom called Heaven, but being here on earth - is it not appropriate to speak the language of our Spiritual King? Now this is something to seriously ponder on now isn't it?
The spirit of tongues is a God given gift designed for all ambassadors to come into fellowship and into union with in order for us to communicate effectively with our King in whom we represent in fullness, and not just in part. Again, this truth is left within the means and understanding of each ambassador called by our King. However as the scripture has stated: "The effective, fervent prayer of a righteous man avails much." Found in the book of James 5:16b stand most appropriate in this line of text and study. In some bibles the same scripture can be read as, "The prayers of a righteous man are powerful." Again the only thing that makes a man righteous is Jesus, who is Spirit, because Jesus is our Righteousness through and by His precious spilled blood. So thus the power of a righteous man comes from Jesus, who again is Spirit. "Now then, we are ambassadors for Christ, as though God were pleading through us; we implore you on Christ's behalf, be reconciled to God. For He made Him who knew no sin to be sin for us, that we might become the righteousness of God in Him." 2 Corinthians 5:20-21. NKJV.
So just like Canada has an official language, so does Heaven and so does God. However that language is called a spiritual language and is unknown to and by the carnal mind of man nor can it be accepted by the flesh of man, because like the Word of God, it is completely spiritual and God ordained and considered foolishness to them outside of this royal Kingdom. Thus we come into a new understanding of speaking in tongues or in a spiritual language known as the language of angels or a heavenly language, which again is completely God given and this by the power of Holy Spirit.
As ambassadors to our King it is up to each one of us to come to know this King and the Kingdom in which we are called ambassadors too. It is all about Jesus people; the gospel and the spiritual truths of the gospel are not about you and me, but they are all about Jesus and who we are in Him and Who He is to us.
For you and I are representatives to what is already established and to what is already in place, and not about what we want that Kingdom to be or to represent by our own meager understandings or reasoning's. An ambassador is not a self-appointed person, but has been appointed by a higher power or source to represent a Kingdom, King, which includes power or source in its fullness, whether we agree with it or not. An ambassador is a spokesman for what already is!
Ambassadors do not represent themselves, nor do they represent their own point of views, but they do represent in full the realities of what that country or Kingdom is and stands for. An ambassador is not an individual spokesman with individual ideas and concepts all based on their own understanding representing themselves, but a representative of a country or Kingdom and the value of what that country or kingdom is in full filled with wisdom, knowledge and offers with understanding the representation all Unity and Authority the King and the Kingdom in which he stands for.
Just as every country in the world has its own language or tongues that are spoken, they also have ambassadors representing their country and not just themselves, for they themselves, the ambassadors are not a country or kingdom, but are only a representative of one Kingdom.
Heaven also has a native language and has God appointed ambassadors representing the very Kingdom of God and do so without their own individuality getting involved based on democratic views and ideas, which only lead to religion, which then leads to death and stray from the truths of that represented Kingdom that does not truly represent that Kingdom, but does represent their own kingdom which in time another will come and conquer. Again, as the Scripture has said: "There is a road that seems right to a man, but its end is the way of death." Proverbs 14:12. NKJV. So it is.
May the Peace and Grace of our God forever bless each and everyone of you in the great and most awesome name of Jesus the Christ our Lord, our God, our Savior, and our King. Again you Ambassadors of Christ Jesus our Lord, God and King, let us represent our King and Kingdom - the Kings way and not our own way and let that King be glorified, for as the prayer of the Lord has said, "Thy Kingdom come, and thy will be done.
Shalom!