Submit your Christian poems or stories
and have them presented online for the
world to read and to be blessed by, we
welcome all authors.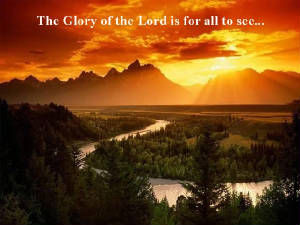 The Alpha and Omega
You are in your car driving home. Thoughts wander to the game you want to see or meal you want to eat, when suddenly a sound unlike any you've ever heard fills the air. The sound is high above you. A trumpet? A choir? A choir of trumpets? You don't know, but you want to know...

So you pull over, get out of your car, and look up. As you do, you see you aren't the only curious one. The roadside has become a parking lot. Car doors are open, and people are staring at the sky.

Shoppers are racing out of the grocery store. The Little League baseball game across the street has come to a halt. Players and parents are searching the clouds. And what they see, and what you see, has never before been seen.

As if the sky were a curtain, the drapes of the atmosphere part. A brilliant light spills onto the earth. There are no shadows. None.

From every hue ever seen and a million more never seen. Riding on the flow is an endless fleet of angels. They pass through the curtains one myriad at a time, until they occupy every square inch of the sky.

North. South. East. West.

Thousands of silvery wings rise and fall in unison, and over the sound of the trumpets, you can hear the cherubim and seraphim chanting, Holy, holy, holy.. The final flank of angels is followed by twenty-four silver-bearded elders and a multitude of souls who join the angels in worship.

Presently the movement stops and the trumpets are silent, leaving only the triumphant triplet: Holy, holy, holy. Between each word is a pause. With each word, a profound reverence. You hear your voice join in the chorus. You don't know why you say the words, but you know you must.

Suddenly, the heavens are quiet. All is quiet. The angels turn, you turn, the entire world turns and there He is. Jesus.

Through waves of light you see the silhouetted figure of Christ the King. He is atop a great stallion, and the stallion is atop a billowing cloud. He opens his mouth, and you are surrounded by his declaration:

I am the Alpha and the Omega.

The angels bow their heads. The elders remove their crowns. And before you is a Figure so consuming that you know, instantly you know: Nothing else matters. Forget stock markets and school reports. Sales meetings and football games. Nothing is newsworthy.. All that mattered, matters no more... for Christ has come.

This morning when the Lord opened a window to Heaven, he saw me, and he asked: My child, what is your greatest wish for today?

I responded: 'Lord please; take care of the person who is reading this message, their family and their special friends. They deserve it and I love them very much'.

The love of God is like the ocean, you can see its beginnings but not its end.

Angel exist, but sometimes, since they don't all have wings we call them FRIENDS, SUCH AS YOU.

Author Unknown
Carrots, eggs & coffee…
A carrot, an egg, and a cup of coffee...You will never look at a cup of coffee the same way again.

A young woman went to her mother and told her about her life and how things were so hard for her. She did not know how she was going to make it and wanted to give up, She was tired of fighting and struggling. It seemed as one problem was solved, a new one arose.

Her mother took her to the kitchen. She filled three pots with water and placed each on a high fire. Soon the pots came to boil. In the first she placed carrots, in the second she placed eggs, and in the last she placed ground coffee beans. She let them sit and boil; without saying a word.

In about twenty minutes she turned off the burners. She fished the carrots out and placed them in a bowl. She pulled the eggs out and placed them in a bowl. Then she ladled the coffee out and placed it in a bowl. Turning to her daughter, she asked, tell me what you see. Carrots, eggs, and coffee, she replied.

Her mother brought her closer and asked her to feel the carrots. She did and noted that they were soft. The mother then asked the daughter to take an egg and break it. After pulling off the shell, she observed the hard boiled egg.

Finally, the mother asked the daughter to sip the coffee. The daughter smiled as she tasted its rich aroma. The daughter then asked, What does it mean, mother?

Her mother explained that each of these objects had faced the same adversity: boiling water. Each reacted differently. The carrot went in strong, hard, and unrelenting. However, after being subjected to the boiling water, it softened and became weak. The egg had been fragile. Its thin outer shell had protected its liquid interior, but after sitting through the boiling water, its inside became hardened. The ground coffee beans were unique, however. After they were in the boiling water, they had changed the water.

Which are you? She asked her daughter. When adversity knocks on your door, how do you respond? Are you a carrot, an egg or a coffee bean?

Think of this: Which am I? Am I the carrot that seems strong, but with pain and adversity do I wilt and become soft and lose my strength?

Am I the egg that starts with a malleable heart, but changes with the heat? Did I have a fluid spirit, but after a death, a breakup, a financial hardship or some other trial, have I become hardened and stiff? Does my shell look the same, but on the inside am I bitter and tough with a stiff spirit and hardened heart?

Alternatively, am I like the coffee bean? The bean actually changes the hot water, the very circumstance that brings the pain. When the water gets hot, it releases the fragrance and flavor. If you are like the bean, when things are at their worst, you get better and change the situation around you. When the hour is the darkest and trials are their greatest, do you elevate yourself to another level?

How do you handle adversity? Are you a carrot, an egg or a coffee bean? May you have enough happiness to make you sweet, enough trials to make you strong, enough sorrow to keep you human and enough hope to make you happy.

The happiest of people don't necessarily have the best of everything; they just make the most of everything that comes along their way. The brightest future will always be based on a forgotten past; you can't go forward in life until you let go of your past failures and heartaches.

When you were born, you were crying and everyone around you was smiling. Live your life so at the end, you're the one who is smiling and everyone around you is crying.

May we all be COFFEE!

Author: Unknown

An angel walked on Highway 109
A drunk man in an Oldsmobile they said had run the light that caused the six-car pileup on 109 that night.

When broken bodies lay about and blood was everywhere, the sirens screamed out eulogies, for death was in the air.

A mother, trapped inside her car, was heard above the noise;

Her plaintive plea near split the air: 'Oh, God, please spare my boys!'

She fought to loose her pinned hands; she struggled to get free, but mangled metal held her fast in grim captivity.

Her frightened eyes then focused on where the back seat once had been, but all she saw was broken glass and two children's seats crushed in.

Her twins were nowhere to be seen; she did not hear them cry, and then she prayed they'd been thrown free, Oh, God, don't let them die!

Then firemen came and cut her loose, but when they searched the back, they found therein no little boys, but the seat belts were intact.

They thought the woman had gone mad and was traveling alone, but when they turned to question her, they discovered she was gone.

Policemen saw her running wild and screaming above the noise in beseeching supplication, please help me find my boys!

They're four years old and wear blue shirts; their jeans are blue to match. One cop spoke up, they're in my car, and they don't have a scratch.

They said their daddy put them there and gave them each a cone, then told them both to wait for Mom to come and take them home.

I've searched the area high and low, but I can't find their dad. He must have fled the scene, I guess, and that is very bad.

The mother hugged the twins and said, while wiping at a tear, he could not flee the scene, you see, for he's been dead a year.

The cop just looked confused and asked, now, how can that be true?

The boys said, Mommy, Daddy came and left a kiss for you.

He told us not to worry and that you would be all right, and then he put us in this car with the pretty, flashing light.

We wanted him to stay with us, because we miss him so, but Mommy, he just hugged us tight and said he had to go.

He said someday we'd understand and told us not to fuss, and he said to tell you, Mommy, He's watching over us.

The mother knew without a doubt that what they spoke was true, for she recalled their dad's last words, I will watch over you.

The fire man's notes could not explain the twisted, mangled car, and how the three of them escaped without a single scar.

But on the cop's report was scribed, in print so very fine, An angel walked the beat tonight on Highway 109.

Author Unknown
The Most Beautiful Rainbow
As we grow up, we learn that even the one person that wasn't supposed to ever let you down probably will.

You will have your heart broken probably more than once and it's harder every time. You'll break hearts too, so remember how it felt when yours was broken.

You'll fight with your best friend. You'll blame a new love for things an old one did. You'll cry because time is passing too fast, and you'll eventually lose someone you love.

So take too many pictures, laugh too much, and love like you've never been hurt because every sixty seconds you spend upset is a minute of happiness you'll never get back.

Don't be afraid that your life will end, be afraid that it will never begin.

Author Unknown
The Homeless Boy
A little boy was selling newspapers on the corner, the
people were in and out of the cold.

The little boy was so cold that he wasn't trying to sell many papers.

He walked up to a policeman and said, "Mister, you
wouldn't happen to know where a poor boy could find
a warm place to sleep tonight would you? You see, I
sleep in a box up around the corner there and down the
alley and it's awful cold in there for tonight. Sure would be nice to have a warm place to stay."

The policeman looked down at the little boy and said, "You go down the street to that big white house and you knock on the door... When they come out the door you just say John 3:16, and they will let you in."

So he did. He walked up the steps and knocked on the door, and a lady answered. He looked up and said, "John 3:16."
The lady said, "Come on in, Son."

She took him in and she sat him down in a split bottom
rocker in front of a great big old fireplace, and she went off. The boy sat there for a while and thought to himself: John 3:16... I don't understand it, but it sure makes
a cold boy warm.

Later she came back and asked him "Are you hungry ? " He said, "Well, just a little. I haven't eaten in a couple of days, and I guess I could stand a little bit of food."

The lady took him in the kitchen and sat him down to a
table full of wonderful food. He ate and ate until he could eat no more. Then he thought to himself: John 3:16. Boy, I sure don't understand it but it sure makes a hungry boy full.

She took him upstairs to a bathroom to a huge bathtub
filled with warm water, and he sat there and soaked for a while. As he soaked, he thought to himself: John 3:16... I sure don't understand it, but it sure makes a dirty boy clean. You know, I've not had a bath, a real bath, in my whole life. The only bath I ever had was when I stood in front of that big old fire hydrant as they flushed it out.
The lady came in and got him. She took him to a room,
tucked him into a big old feather bed, pulled the covers up around his neck, kissed him goodnight and turned out the lights. As he lay in the darkness and looked out the window at the snow coming down on that cold night, he
thought to himself: John 3:16... I don't understand it but it sure makes a tired boy rested.

The next morning the lady came back up and took him down again to that same big table full of food. After he ate, she took him back to that same big old split bottom rocker in front of the fireplace and picked up a big old Bible. She sat down in front of him and looked into his young face...

"Do you understand John 3:16 ?" she asked gently. He
replied, "No, Ma'am, I don't. The first time I ever heard it was last night when the policeman told me to use it."
She opened the Bible to John 3:16 and began to explain
to him about Jesus . Right there, in front of that big old fireplace, he gave his heart and life to Jesus. He sat there and thought: John 3:16 -- don't understand it, but it sure makes a lost boy feel safe.

You know, I have to confess I don't understand it either,
how God was willing to send His Son to die for me, and how Jesus would agree to do such a thing. I don't understand the agony of the Father and every angel in heaven as they watched Jesus suffer and die. I don't understand the intense love for ME that kept Jesus on the cross till the end. I don't understand it, but it sure does make life worth living.

John 3:16 - For God so loved the world, that He gave his only begotten Son, that whosoever believes in Him should not perish, but have everlasting life.

A great message for the world in the midst of the insanity that is ours in these days that may help others so let's send His love and Grace around the world.

Author Unknown

My Child - By Womens Aglow Ministries
You may not know me, but I know everything about you...Psalm 139:1
I know when you sit down and when you rise up...Psalm 139:2
I am familiar with all your ways...Psalm 139:3
Even the very hairs on your head are numbered...Matthew 10:29-31
For you were made in my image...Genesis 1:27
In Me you live and move and have your being...Acts 17:28
For you are My offspring...Acts 17:28
I knew you even before you were conceived...Jeremiah 1:4-5
I chose you when I planned creation...Ephesians 1:11-12
You were not a mistake, for all your days are written in my book...Psalm 139:15-16
I determined the exact time of your birth and where you would live...Acts 17:26
You are fearfully and wonderfully made...Psalm 139:14
I knit you together in your mother's womb...Psalm 139:13
And brought you forth on the day you were born...Psalm 71:6
I have been misrepresented by those who don't know me...John 8:41-44
I Am not distant or angry, but Am the complete expression of love... 1 John 4:16
And it is my desire to lavish my love on you...1 John 3:1
Simply because you are My child and I Am your Father...1 John 3:1
I offer you more than your earthly father ever could...Matthew 7:11
For I Am the perfect Father...Matthew 5:48
Every good gift that you receive comes from my hand...James 1:17
For I Am your provider and I meet all your needs...Matthew 6:31-33
My plan for your future has always been filled with hope...Jeremiah 29:11
Because I love you with an everlasting love...Jeremiah 31:3
My thoughts toward you are countless as the sand on the seashore...Psalm 139:17-18
And I rejoice over you with singing...Zephaniah 3:17
I will never stop doing good to you...Jeremiah 32:40
For you are my treasured possession...Exodus 19:5
I desire to establish you with all My heart and all My soul...Jeremiah 32:41
And I want to show you great and marvelous things...Jeremiah 33:3
If you seek Me with all your heart, you will find Me...Deuteronomy 4:29
Delight in Me and I will give you the desires of your heart...Psalm 37:4
For it is I who gave you those desires...Philippians 2:13
I Am able to do more for you than you could possibly imagine...Ephesians 3:20
For I Am your greatest encourager...Thessalonians 2:16-17
For I also the Father Who comforts you in all your troubles...2 Corinthians 1:3-4
When you are broken hearted, I Am close to you...Psalm 34:18
As a shepherd carries a lamb, I have carried you close to My heart...Isaiah 40:11
One day I will wipe away every tear from your eyes...Revelation 21:3-4
And I'll take away all the pain you have suffered on this earth...Revelation 21:3-4
I Am your Father, and I love you even as I love My Son, Jesus...John 17:23
For in Jesus, My love for you is revealed...John 17:26
He is the exact representation of My being...Hebrews 1:3
He came to demonstrate that I Am for you, not against you...Romans 8:31
And to tell you that I Am not counting your sins...2 Corinthians 5:18-19
Jesus died so that you and I could be reconciled...2 Corinthians 5:18-19
His death was the ultimate expression of My love for you...1 John 4:10
I gave up everything I loved that I might gain your love...Romans 8:31-32
If you receive the gift of My Son Jesus, you receive Me...1 John 2:23
And nothing will ever separate you from My love again...Romans 8:38-39
Come home and I'll throw the biggest party heaven has ever seen...Luke 15:7
I have always been Father, and will always be Father...Ephesians 3:14-15
My question is... Will you be My child?...John 1:12-13
I Am waiting for you...Luke 15:11-32

Love from your Father Almighty God.
Mercy Came Running By Phillips, Craig and Dean
Once there was a holy place
Evidence of God's embrace
And I can almost see mercy's face
Pressed against the veil

Looking down with longing eyes
Mercy must have realized
That once His blood was sacrificed
Freedom would prevail

And as the sky grew dark
And the earth began to shake
With justice no longer in the way

Mercy came running
Like a prisoner set free
Past all my failures to the point of my need
When the sin that I carried
Was all I could see
And when I could not reach mercy
Mercy came running to me

Once there was a broken heart
Way too human from the start
And all the years left it torn apart
Hopeless and afraid

Walls I never meant to build
Left this prisoner unfulfilled
Freedom called but even still
It seemed so far away

I was bound by the chains
From the wages of my sin
Just when I felt like giving in

Mercy came running
Like a prisoner set free
Past all my failures to the point of my need
When the sin that I carried
Was all I could see
And when I could not reach mercy
Mercy came running to me

Sometimes I feel so far
So far from where I really should be
He gently calls to my heart
Just to remind me

Mercy came running
Like a prisoner set free
Past all my failures to the point of my need
When the sin that I carried
Was all I could see
And when I could not reach mercy
Mercy came running to me
Let my words be few
By Phillips, Craig, and Dean

You are God in heaven
And here am I on earth
So I'll let my words be few
Jesus, I am so in love with You

And I'll stand in awe of you, Jesus
Yes, I'll stand in awe of you
And I'll let my words be few
Jesus, I am so in love with you

The simplest of all love songs
I want to bring to You
So I'll let my words be few
Jesus, I am so in love with You

The Heart of Worship
By Phillips, Craig, and Dean
When the music fades
And all is stripped away
And I simply come
Longing just to bring
Something that's of worth
That will bless Your heart

I'll bring you more than a song
For a song in itself
Is not what You have required
You search much deeper within
Through the way things appear
You're looking into my heart

I'm coming back to the heart of worship
And it's all about You
It's all about You, Jesus
I'm sorry, Lord, for the thing I've made it
And it's all about You
It's all about You, Jesus

King of endless worth
No one could express
How much You deserve
Though I'm weak and poor
All I have is Yours
Every single breath

I'm coming back to the heart of worship
And it's all about You
It's all about You, Jesus
I'm sorry, Lord, for the thing I've made it
And it's all about You
It's all about You, Jesus

The Miracle
A little girl went to her bedroom and pulled a glass jelly jar from its hiding place in the closet.

She poured the change out on the floor and counted it carefully.

Three times, even. The total had to be exactly perfect. No chance here for mistakes.

Carefully placing the coins back in the jar and twisting on the cap, she slipped out the back door and made her way 6 blocks to Rexall's Drug Store with the big red Indian Chief sign above the door.

She waited patiently for the pharmacist to give her some attention, but he was too busy at this moment. Tess twisted her feet to make a scuffing noise. Nothing. She cleared her throat with the most disgusting sound she could muster. No good. Finally she took a quarter from her jar and banged it on the glass counter. That did it!

'And what do you want?' the pharmacist asked in an annoyed tone of voice. I'm talking to my brother from Chicago whom I haven't seen in ages,' he said without waiting for a reply to his question.

'Well, I want to talk to you about my brother,' Tess answered back in the same annoyed tone. 'He's really, really sick ... and I want to buy a miracle.'

'I beg your pardon?' said the pharmacist.

'His name is Andrew and he has something bad growing inside his head and my Daddy says only a miracle can save him now. So how much does a miracle cost?'

'We don't sell miracles here, little girl. I'm sorry but I can't help you,' the pharmacist said, softening a little.

'Listen, I have the money to pay for it. If it isn't enough, I will get the rest. Just tell me how much it costs.'

The pharmacist's brother was a well dressed man. He stooped down and asked the little girl, 'What kind of a miracle does your brother need?'

'I don't know,' Tess replied with her eyes welling up. 'I just know he's really sick and Mommy says he needs an operation. But my Daddy can't pay for it, so I want to use my money.'

'How much do you have?' asked the man from Chicago.

'One dollar and eleven cents,' Tess answered barely audibly.

'And it's all the money I have, but I can get some more if I need to.'

'Well, what a coincidence,' smiled the man. 'A dollar and eleven cents - the exact price of a miracle for little brothers.'

He took her money in one hand and with the other hand he grasped her mitten and said 'Take me to where you live. I want to see your brother and meet your parents. Let's see if I have the miracle you need.'

That well dressed man was Dr Carlton Armstrong, a surgeon, specializing in neuro-surgery. The operation was completed free of charge and it wasn't long until Andrew was home again and doing well.

Mom and Dad were happily talking about the chain of events that had led them to this place.

That surgery,' her Mom whispered. 'was a real miracle. I wonder how much it would have cost?'

Tess smiled. She knew exactly how much a miracle cost ... one dollar and eleven cents . plus the faith of a little child.

In our lives, we never know how many miracles we will need.

A miracle is not the suspension of natural law, but the operation of a higher law. I know you'll keep the ball moving!

A ball is a circle, no beginning, no end. It keeps us together like our Circle of Friends. But the treasure inside for you to see is the treasure of friendship you've granted to me.

MY OATH TO YOU...
When you are sad... I will dry your tears

When you are scared... I will comfort your fears.

When you are worried... I will give you hope.

When you are confused... I will give you understanding.

And when you are lost .. And can't see the light, I shall be your beacon... Shining ever so bright.

This is my oath. I pledge till the end.

Why you may ask? Because you're my friend.

Signed:
Jesus

Author: Unknown
A Cherokee Legend
Do you know the legend of the Cherokee Indian youth's rite of passage?

His father takes him into the forest, blindfolds him and leaves him alone. He is required to sit on a stump the whole night and not remove the blindfold until the rays of the morning sun shine through it. He cannot cry out for help to anyone. Once he survives the night, he is a MAN.

He cannot tell the other boys of this experience, because each lad must come into manhood on his own. The boy is naturally terrified. He can hear all kinds of noises. Wild beasts must surely be all around him. Maybe even some human might do him harm. The wind blew the grass and earth, and shook his stump, but he sat stoically, never removing the blindfold. It would be the only way he could become a man!

Finally, after a horrific night the sun appeared and he removed his blindfold.
It was then that he discovered his father sitting on the stump next to him. He had been at watch the entire night, protecting his son from harm.
We, too, are never alone. Even when we don't know it, God is watching over us, sitting on the stump beside us. When trouble comes, all we have to do is reach out to Him.
If you liked this story, then tell others about it. If not, you took off your blindfold before dawn.
Moral of the story:
Just because you can't see God, doesn't mean He is not there.
'For we walk by faith, not by sight.'
Author Unknown